At Conestoga Collision, we are called upon to do a ton of auto glass replacement. Windshields. Rear Windshields. Windows. Sideview mirrors. You name it, we do it. Of course, this is a natural fit as it is not uncommon for there to be damage to auto glass in the course of any moderate to severe collision. That said, we also repair and replace auto glass for customers who only have a chip or a crack in a windshield, window or mirror. Driving with cracked or otherwise damaged auto glass can be downright dangerous. Spider cracks only get bigger with stress and temperature changes. Bring your vehicle to the auto glass team at Conestoga Collision today and we will get the right piece of glass for your vehicle so you can get back on the road safely.
Insurance and Out of Pocket Payment
Customer safety is our number one goal here at Conestoga Collision. Whether it's damage from a major collision or just a parking lot dent, we won't let your vehicle leave our lot until we know that it is safe to drive. That said, customer convenience is a close second. That's why we work with every customer to make sure you can satisfy repair costs in a manner that works best for you. If you want to pay out of pocket or through your insurance, our estimate quote is going to be the same price. We're won't play games with your budget. You can trust the team at Conestoga Collision to repair your vehicle right for a price that's fair.
Jobs Done Fast versus Jobs Done Right
Everyone has seen the commercials for major national auto glass repair outfits who promise to come to your home or job and repair your windshield in an hour's time for rock bottom pricing. As the old saying goes, if it sounds too good to be true, it probably is. At Conestoga Collision, our first concern is safety. When it comes to auto glass, there is a lot going on that needs to be repaired correctly in order to ensure the safety of you and your passengers. In short, the only safe repair is a repair done correctly. And, while we strive to turn around every job in time that is convenient for our customers, we would never put an arbitrary time limit on a job while sacrificing quality or safety.
Why don't we do "1-Hour Jobs"?
Simple. Auto glass is not just glass anymore. Just like the rest of the system on your new car, truck or SUV, there are sensors and electronics that accompany nearly every square foot of your vehicle. Your car's glass is no different. In many models nowadays, when we replace a windshield, we need to make sure that the rain sensors are operating properly. When we replace a sideview mirror, we need to ensure that the defrosters, blind spot signals and other features are all working properly as well. Success, in our business model, is defined by doing the right thing every day on every job. Our profits do not come from a high-volume/cut-rate model like the discount glass replacement guys. If you are looking for safe repairs done right, trust the team at Conestoga Collision to deliver your windshield or window replacement job factory correct every time.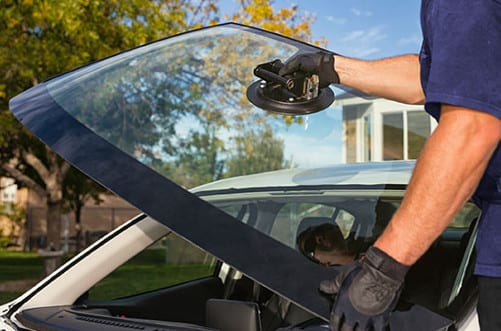 Get an Estimate Today
Whether you have a chip out of a side view mirror, a spider crack in your windshield or a smashed window, Conestoga Collision is pleased to help with your next auto glass replacement needs. For windshield replacement, door glass repair or side mirror replacement, call our team today to get started!