Choosing the Right Shop
At Conestoga Collision, we have a long history of differentiating ourselves from other auto body repair shops on the Main Line. How do are we different than the rest? First off, only about 20% of body shops locally are I-CAR Gold Class Certified. The Gold Class certification lets our customers know that we have invested our money and time into the training and equipment necessary to properly repair every car that enters our shop. When it comes to Aluminum Body Repair and Aluminum Panel Repair, some shops have chosen to invest in what's necessary to keep up with advancements in the industry, while other shops have elected to stay behind the times. You will not be surprised to hear that, over the last 5 years, Conestoga Collision has taken major steps to be one of the area's most trusted aluminum body repair shops.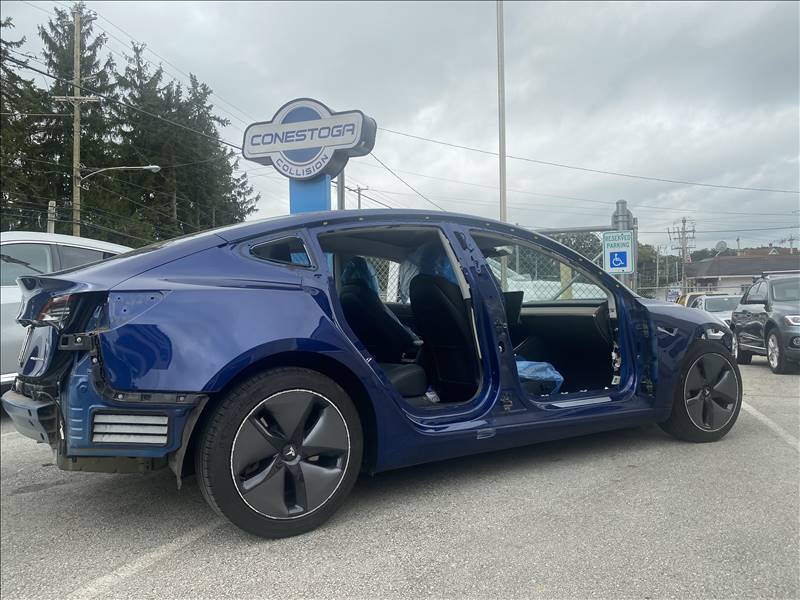 Trusted by Tesla
No one auto manufacturer has turned the industry on its ear in the last half century like Tesla has. When it comes to innovation and differentiation, Tesla's model line is as forward thinking as it gets. This is one reason that we are so proud at Conestoga Collision to be just one of a small handful of local shops to be a Tesla Approved Body Shop. Repairing these advanced vehicles requires advanced training and advanced equipment. We've invested in the training, repair space and equipment to deliver factory-correct repairs on Tesla vehicles time and again. That's why Tesla drivers in Chester County and the Main Line trust their collision repair to Conestoga.
What's Different about Aluminum Body and Frame Repair?
For generations, collision repair was governed largely by the art and science of being able to form and bend steel into a desired shape. Different metals have different properties. They behave differently at high temperatures. They even bend and break differently. Aluminum is often noted for not having the "memory" that steel has. This is to say a dent in steel can often be more easily bent or even popped back to (or very close to) it's previous intended shape. However, aluminum does not have such a memory. Bending and or denting aluminum tends to only make it stronger. Though it gains strength during this process, it is often more likely to tear its surface than steel might be. These properties do not make one material better or worse than the other—just different.
Understanding the properties of metals is only half the battle. The knowledgebase is part of what is required for a team like ours to execute flawless aluminum body and frame repairs. The space and equipment are just as important. Conestoga Collision has invested in aluminum-only repair bays and aluminum-only repair tools in order to deliver factory-correct, safe repairs every time. This is necessary because the dust created from repairs to steel parts can cause corrosion for exposed aluminum parts. Failing to address this would lead to disastrous results for any shop. Not every shop is willing or able to take the steps that we have in order to ensure proper aluminum body and frame repairs are done correctly with special tools in a designated space.  This is just part of our continued commitment to providing our clients with the highest quality repairs in the Philadelphia area.
Get Your Estimate
If you are looking for a shop that has the expertise and technology required to repair your aluminum body or aluminum frame vehicle, you've come to the right place. Our team is poised to meet any repair job. Give us a call or send us a message today to learn more about getting a fast, free estimate.