It's not news to anyone on the Main Line, that a person can stand at any corner along Lancaster Avenue and see some of the world's most advanced automobiles pass by all day, every day. While we are proud to work on Mercedes, Land Rover, BMW and Tesla vehicles, it should be noted that all vehicle manufacturers have are using tech-forward systems in new models and have been for several years. What does this mean? It means that, regardless of what you drive, today's cars, trucks and SUVs are extremely complex machines with dozens of systems, computers and moving parts.
How it Works – Providing a Sight Estimate
Whether your car has been driven in by you or towed in by our team or another towing service, our first step will be to perform a comprehensive sight estimate of the vehicle. When we conduct an estimate, we are only able to estimate repair for parts and labor to repair what we can see. Ideally, we would be able to account for all repair necessary to panels, bumpers and exterior parts as well as mechanical and computing system parts and equipment. This is simply not possible with a sight estimate.
No one likes surprises. This is why we are as transparent as possible regarding what damaged we can observe and
the time and
The car manufacturing industry has changed by leaps and bounds over the last 20 years. Today's vehicles have splash guards which often limit our ability to see up underneath a vehicle and manifold covers that prevent our estimators from being able to peak in at and around the engine without engaging in a total teardown of a vehicle. It's important to note that, though we will not take a vehicle apart during the estimate process, our estimates are meticulously accurate based on the information we can gather from data available to us.
Hidden Damage and Actual Repair Costs
The estimating process is generally less complex when damage is limited to dents, dings and scratches. Once it is apparent that there is damage to mechanical and electrical systems, there can be many variables. Today's cars have lightning-fast computers, sensors, cameras and much more that are all communicating with one another while the car is in motion and at rest. These thousands of parts were engineered meticulously by the world's foremost strategic minds, and it is our job to make sure they are all working when we reassemble your vehicle. Some of these parts are no larger than a pebble, and damage may not reveal itself until we have had an opportunity to complete multiple scans and run other diagnostic tests. In short, some of this damage is simply not evident during a sight estimate.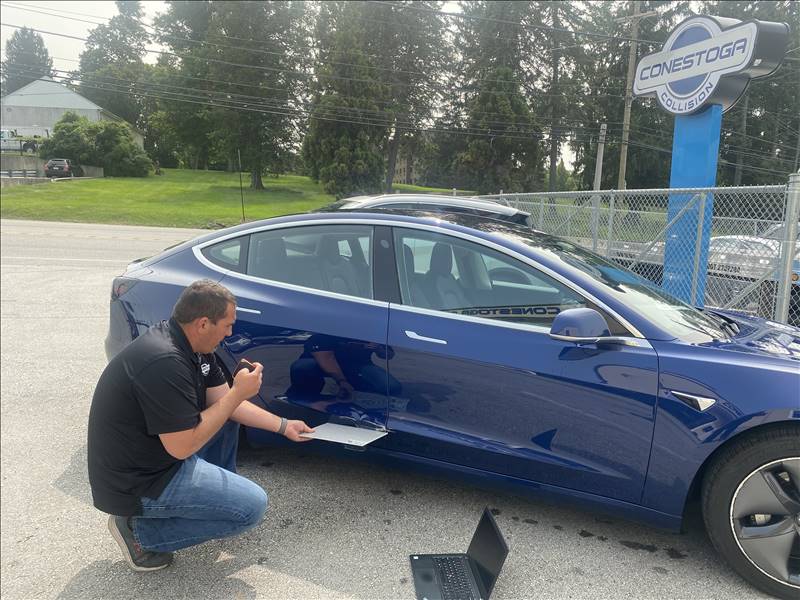 Exceeding Expectations
Given everything we know about the delta that may exist between sight estimate values and actual repair costs, how is it possible that Conestoga Collision can maintain such high customer satisfaction ratings year after year? The changes in the estimating process in our industry are not unique to us. Every shop has to make its own choice in how they can best telegraph expectations to customers. Each job is different. Conestoga Collision makes a deliberate effort to ensure that our processes, methods and cost estimates are conveyed in a transparent manner. We do everything we can to avoid any misunderstandings on each and every repair job. Not only do we welcome questions, but we encourage them. This is what has put us in such a unique position to exceed customer expectations over and over again.
Doing Business the Right Way
If you are looking for an auto body repair shop who does business on a foundation of respect and honesty, then you have come to the right place. Our staff is committed to delivering each repair with precision and excellence. If this sounds like how you wish to be served, then contact us today for a fast and free estimate for your vehicle's damage.